How was report card day??
We hope you guys didn't get too much of a scolding
(though, we're pretty sure all of you have not done too bad)
if you have, don't worry.. SMILE :) just do your VERY BEST, and let GOD do the rest !!


Anywayz... here's the moment you've all been waiting for..



THE AMAZING, THE AWESOME, THE IRRESISTABLE, THE OVERWHELMING, THE WONDERFUL, THE EXCELLENT, THE LIFE-CHANGING
*or simply*
!!!!!DUCF CAMP

AMPLIFIED

!!!!!
DAY TWO...



So yes, the original wake up time was 6.30 a.m.
but we're pretty sure one or two sleepyheads just couldn't stick to the schedule XD

well, at least we know they tried..


When the camp chiefs announced that in-sleepers will cost their ever-so-tastingly-named-groups some points,

everyone seemed to have found waking up just a LITTLE bit easier :)




Morning exercise was nothing short of awesome as Heang Lee, all bright-eyed and bushy-tailed, led everyone in a series of oh-so-fun stretches..





So after sweating for what seems like hours,

(this goes out to those who rarely exercise, yes we feel your pain XP)

we all get more than a little cool wind in our faces as we head to the oh-so-BIG-wonderful-fully-air-conditioned-hall :P

that's right.. :)


Our dear Camp Chief Daniel with the help of the other Camp chiefs, then conducted what we like to call..
Leader's Assembly
Everyone gathered in a circle, regardless of which group they are from and held each others' hands.



A piece of paper of different contents were distributed to each person.. and everyone was not allowed to show theirs to anybody.. (shhh!!)

By now, everyone's puzzled..



"What's going on here?? Why this paper say.... "


(it's a secret remember? ;P)



But Daniel mercifully eases the suspense in the air, and explains what everyone needs to do.

When he calls out the name of the city or place that is written on your paper, you sit down. The other two ppl, standing next to you, yes, your neighbours, (they're holding your hands right?) well, they're supposed to prevent you from sitting down, and pull you right back up :)


Simple?

Not so..

Sitting with high velocity, does NOT, i repeat does NOT do good to the arms supporting your weight,

pt=mv-mu

The faster the velocity, the higher the impact :)

(you'll understand it when you embark your journey to your senior years)

So.... some fell..


And some... got saved..



At the end of the day, the moral of the story is that there will always be words of discouragement from those whom you love, unjustice done that you cannot fathom why on earth it would of all people, happen to you..
but, as Christians, as different parts of ONE body, we must help bring each other up and encourage one another in times of chagrin and disappointment..

So up next was Devotions... where we discussed further about what we learned at Leader's Assembly..

Next, Kah Hoe's band hit the floor and everyone praised GOD!! YEAH!!




Soon after... presenting Josephine
Our other co-camp speaker :)




Basically we had several activities...

There were several photographs pasted on the white board, of people such as Eva Longoria, David Beckham and other people representing various 'groups' such as 'teenagers', 'old people', 'asian', 'skinny', 'fat' and so on...

And each group had to answer a set of questions and 'bentang' what we think.
The questions include 'who would you want to be your best friend?', 'who would you want as your spouse?' and 'what criteria's did you use to determine your answers?'



So we learn not to judge other people, especially not by their appearances. That's because we're all brothers and sisters in Christ!!! =)

We also had another short activity, where group members toss a ball of yarn to each other, saying something they liked about that person.

After awhile, you get a spider-web/ star like 'structure' that connects all group members. It shows us that we all need each other to keep it up and steady; everyone plays a part.




Next up, we had a team building game!
Our task: to build buildings out of newspapers, paper cups, straws and spoons :)

Several extra instructions were added along the way....

Such as 'the building has to be 4 layers!' or 'there must be a smiley face drawn on the spoon!'



It was a tough competition, but in the end, Smarties took home the BEST OVERALL BUILDING award !!!

Then everyone, went absolutely-starking-fanatic about BUTT BALL!!!
(it's the best, really)



After several grueling rounds...... KIT-KAT emerged as the champion!!!!!!

Who knew we had such TALENTED players?? Watch out ppl, this may be the next Ronaldo... hmm...

Heard of building structures to catch an egg's fall??
I'm sure you have...

But I bet you've never heard of building F1 RACE CARS BEFOORE !!

Cause that's EXACTLY what we DID.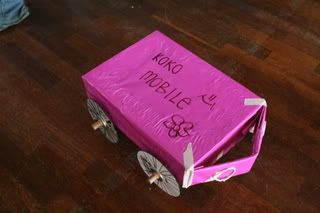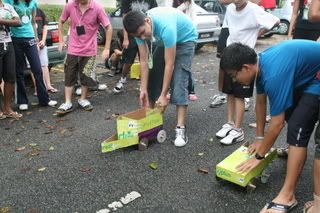 Ready, set...............

3.30 p.m. - OUTDOOR GAMES time!!! (aka getting wet and mucky time) XD


YUP!!!!!!!! DUUUUUUUUUUUUUUUUUUUUNK!!!!!! (they're looking for sweets btw)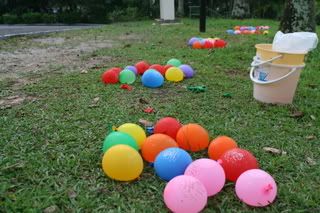 Next, we moved on to.... water balloons and eggs!!!!!!!

So after a NICE clean bath....
We all dressed up!!
Everyone was looking MIGHTY FIIINE... ;)

Then it was time for the U-NITE Banquet...

The Camp Committee planned a royal treatment meal for the kings and queens of the camp (the campers, silly :P )

They even went all out by decorating the place with litted aromatherapic candles...

And welcomed us into the hall....




And served us with FOOD..


Hello?! Waiter!



And we were all happy people!! =)




Of course, U-NITE Dinner wouldn't be complete without JOKES for entertainment..


Hey, who wants to see David Cook?? HAHAHAHAHAHAHAHAHHA




Then we had our very own photoshoot !!!



Then, all happy and stuffed with yummy food..........



7.15 p.m. TALENT TIME
(the time where you strut your stuff)




Joel and the band led us in a JAMMING SESSION !!
we were soaring and flyyying, singing our HEARTS out !!!




A little meaningful message was brought across by Miss Lee.



We gathered in our groups and had REFLECTION where we prayed and discussed about the whole day.. (pretty interesting stuff..)

So now, everyone's having supper right??



The camera just couldn't get ENOUGH of some ppl...

It started with these.. very two committee members..




Then the camera got greedy.. and it wanted MORE...




Everyone's SO HAPPILY exhausted now... LIGHTS OUT!!!

Zzzzzzzzzzzzzzzzzzz............

Check out the slideshow of random pics from day 2...
It takes awhile for all 30 pics to load, so be patient... =)