On the 15th of February 2008 in conjunction with Valentine's Day,
DUCF had 'I Heart You' Day!!

We had our very own Puan Cheng (or Puan Tang BH)
to speak to us about one of the most talked-about topics in the world-
LOVE.
[ The committee would like to say thanks to those who decided to come to school just for CF even though you
ponteng-ed
in the morning xD ... To those who didn't come for 'I Heart You' Day because Sports Day the day before, pity you guys lar... missed out Pn Tang's love talk Pn Tang and also your Valentine's gift from your CG leaders =/ (bug them for it, maybe they kept some xD) Oh well, don't forget to come next week for Shing Shong Shang Day!! ]
But lets start at the beginning of CF.
This is what the classroom looked like at 12.45pm...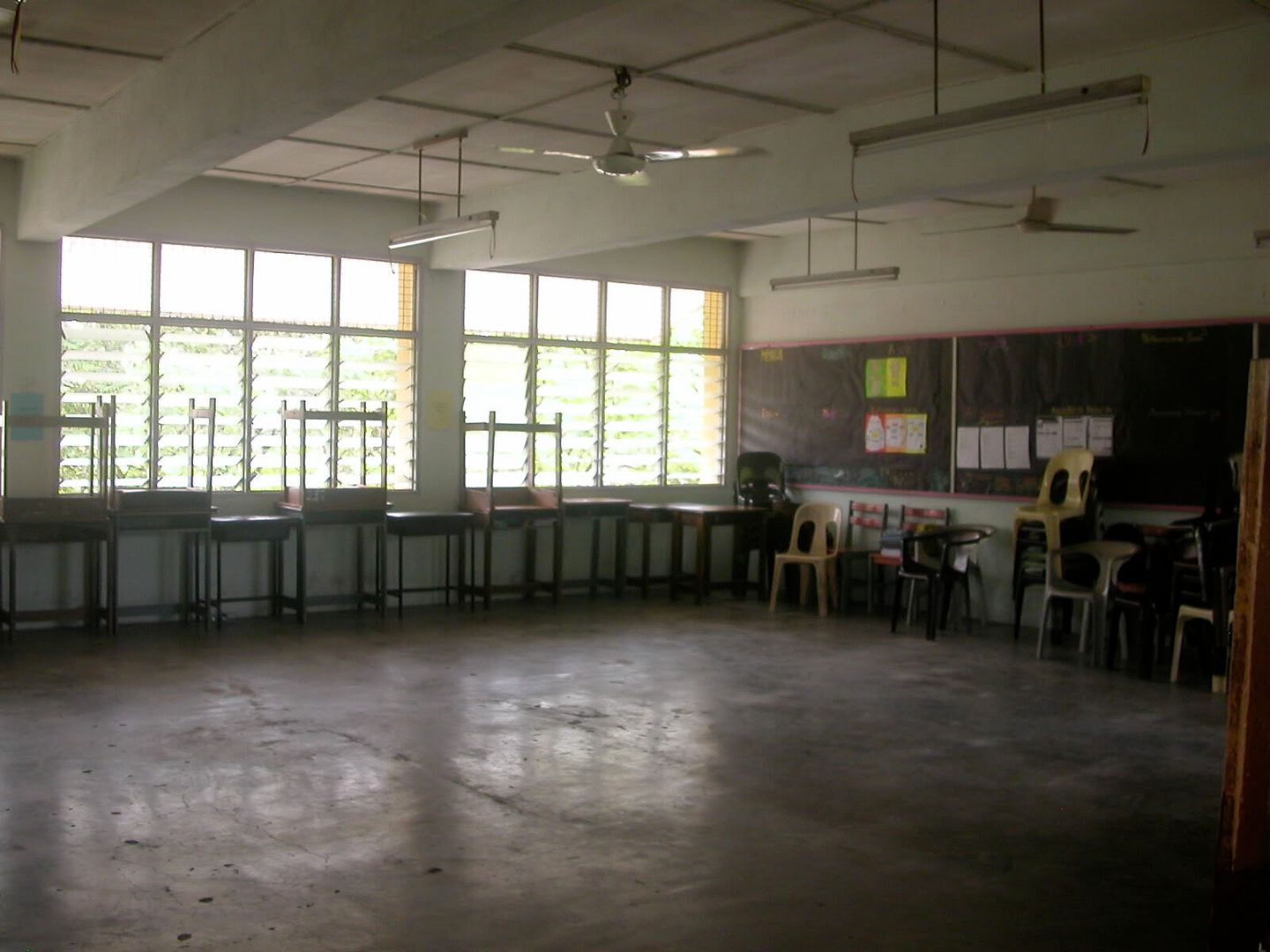 But no worries! Because all our members arrived shortly after that, enabling us to begin our CF with our ice-breaker, led by Khye Yuen called

teddy bear

..
What & how was this game played?
Well firstly, everyone sat in a circle while two teddy bears were passed to the people at the opposite ends.
The bears were supposed to be passed around themselves in circles, the big bear 5 times and the small bear 3 times. The smaller bear will eventually catch up with the bigger bear.
The purpose of this game is to NOT get caught with the big and small bear at the same time.
Right, Daniel & Heang Lee? =)
Pass the bear, pass the bear...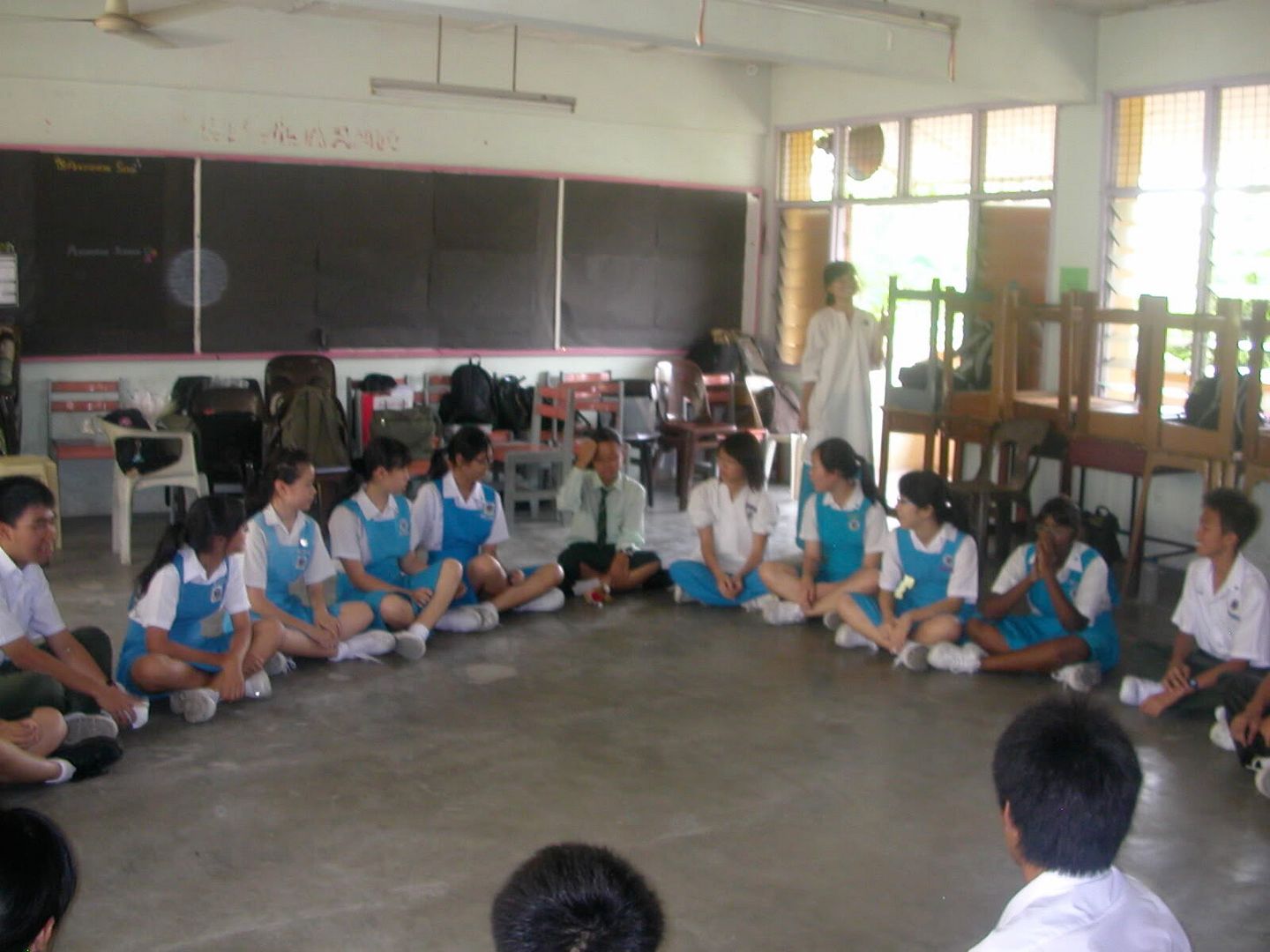 The cute (and poor) teddy bears that became our victims during the game...
Then we moved on to worship, led by David, with his 2 guitarists, Joel & Chen Sern!
We sang:
1) One Way
2) Lord I Lift Your Name On High
3) Above All
4) I Could Sing of Your Love Forever
L-R: Joel, Chen Sern & David..
The crowd during worship..
After that, we had a short talk by Jen Wei, our treasurer, on offering, before our first collection of this year was made.
Jen Wei explaining the importance of offering..
Then we moved on to our message of the day, by Puan Cheng about
'The Six Principles to Godly Courtship'
!
The six principles are:
1) Seek counsel
2) Be equally yoked
3) Look for signs of purity
4) Kindness
5) Tested prayer
6) Hang around the well
For scripture reference, please read Genesis 24:1-4, 10-13 & 16-20.
And remember
1 Corinthians 13: 4-8a

4 Love is patient, love is kind. Love does not envy, Love does not boast, Love is not proud.

5 Love is not rude, love is not self-seeking, love is not easily angered, love keeps no record of wrongs.

6 Love does not delight in evil but rejoices with the truth.

7 Love always protects, always trusts, always hopes, always perseveres.

8a Love never fails
Puan Cheng stressing her point during her message..
Then Puan Loh came and explained to us regarding the virginity pledge, which was distributed to all the members.
In case you missed it, here's the pledge we received.
Print it out and keep it in your wallet, as suggested by Puan Loh.. =)
Believing that true love waits, I make a commitment to God, myself, my family, my friends, my future mate, and my future children to a lifetime of purity including sexual abstinence from this day until the day i enter a biblical marriage relationship.
So basically thats it, CF ended a little later than usual, but it was well worth it to listen to Puan Cheng and Puan Loh talk.
All members were given a little token by their respective CG leaders.. =)
Daniel, the MC for this week's CF..
Joel also informed the members that new CF starting time is 12.45 pm.
L-R: Pn Cheng, Cik Liang, Cik Lee
Oh yeah, we had a total of 45 ppl today and 4 newcomers =) Welcome!!
So thats it for this CF!
Next week is '
SHING SHONG SHANG
' Day!
(you wouldn't want to miss it..)
Please be reminded that CF starts at 12.45 next week..
God bless... =)
DUCF
Posted by Khristy Choo